creamer media
store
store home page

creamer media product
2011 Coal: A review of South Africa's coal sector (PDF Report)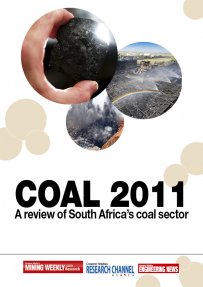 Coal is of critical importance to the South African energy economy. It is the source of 93% of the country's electricity, 70% of its primary energy and 30% of its petroleum liquid fuels. Local demand for coal is growing, particularly from electricity utility Eskom, which is pursuing a massive capacity expansion programme that includes significant new coal-fired facilities.
At the same time, demand for South African coal on the export market is rising, particularly from countries such as India and China, and South African coal-mining companies are benefiting from increased prices for their export coal. This report details activities in South Africa's coal-mining industry and includes production and consumption statistics, as well as an overview of the major participants and selected smaller participants in the industry.
Published: 31 August 2011.
---
TABLE OF CONTENTS
---
Key developments 1
---
Overview of South Africa's coal market 2–12
Demand

Local demand: Eskom
Local demand: Other
Export sales
Operational challenges

Export logistics
Cost containment
Safety Labour issues
Skills shortages
Environmental issues
General corporate activity
---
Major companies 13–20
Anglo American Thermal Coal
BHP Billiton Energy Coal South Africa
Exxaro Resources
Optimum Coal Holdings
Sasol Mining
Xstrata Coal South Africa
Company profiles
---
Smaller companies 21–29
Bisichi Mining
Coal of Africa Limited
Continental Coal
Forbes & Manhattan Coal Corporation
Keaton Energy
Miranda Minerals
Resource Generation
Sentula Mining South African Coal Mining Holdings
Total Coal South Africa
Universal Coal
Wescoal
Company profiles
---
Selected Coal Projects in South Africa 30–35
AATC: Zibulo, New Largo
Becsa: Douglas/Middelburg optimisaiton, Klipspruit Exxaro Resources: Grootegeluk Medupi expansion, Thabametsi
Optimum Coal: Boschmanspoort, Kwagga North, Schoonoord
Sasol Mining: Thubelisha, Impumulelo, Shondoni, Mafutha
Xstrata Coal South Africa: Atcom East, Tweefontein, Zonnebloem
Projects under development by smaller companies
---
Prospects 36
---
Main sources 37–38
item price: $350
Add to cart
View cart