creamer media
store
store home page

creamer media product
2011 Construction Industry (PDF Report)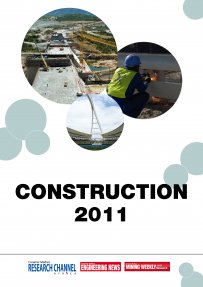 Construction is a $7,5-trillion industry, accounting for 13,4% of the world's gross domestic product. The industry is a driver of economic development, providing both private and public infrastructure. However, the recent slump in the global economy – said by many commentators to be the worst since the Great Depression of the 1930s – had a severe impact on the construction sector more so than other sectors of the economy, with developed countries experiencing a $650-billion slump in yearly construction output, while emerging markets simply slowed down from growth rates of as high as 11% a year in 2006 to a modest average of 0,6% in 2009.
During the global economic downturn South Africa's construction sector managed, on the whole, to avoid some of the worst effects of the crisis, as a result of the many projects being implemented, including those related to South Africa's hosting of the 2010 FIFA World Cup. However, the hangover from the World Cup has caused a slump in construction activity and according to ratings firm Fitch this sector will only start to "significantly improve" from 2012 onwards, owing to deferral of government infrastructure spending.
Published: 06 June 2011.
---
TABLE OF CONTENTS
---
List of abbreviations 1
---
Key developments 2
---
Global market 3–4
---
South African market 5–9
Employment
Residential building
Nonresidential building
Civil construction works
Public infrastructure programme
Collusion
---
Main participants 10–38
Basil Read
Grinaker-LTA
Group Five
Murray & Roberts
Raubex
Sanyati
Sea Kay
Stefanutti Stocks
Wilson Bayly Holmes-Ovcon
---
Construction outlook 39
---
Main sources 40–42
item price: $350
Add to cart
View cart