creamer media
store
store home page

creamer media product
2011 Diamond mining in Southern Africa (PDF Report)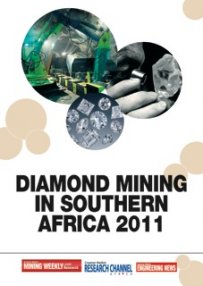 Much to the relief of the global diamond market, the diamond trade is at long last starting to show signs of revival, following the crippling global economic crisis of 2008/9. While 2010 was not a painless year for the diamond sector, given the structural issues that continued to afflict already stressed-out markets the world over and the, as yet, unanswered questions about the sustainability and the resilience of the global economy, the industry is, nonetheless, in a far better position than it was at the start of the financial crisis.
Debt levels in cutting and polishing centres have been brought down to more controllable levels and diamantaires have done well in rebalancing their inventories – as a result rough diamond prices have rebounded and exceeded precrisis highs, with strong demand growth. This report discusses the world diamond market, with a particular emphasis on diamond-mining activities taking place in Southern Africa, and provides information on key companies, operations and projects.
Published on: 07 November 2011.
---
TABLE OF CONTENTS
---
List of abbreviations 1
---
Key developments 2
---
Global market 3–6
Supply and demand
Synthetic diamond market
Conflict diamonds
---
Major sources of diamonds 7–8
---
Global diamond-mining companies 9–29
De Beers
Alrosa
Rio Tinto Diamonds
BHP Billiton
Gem Diamonds
Petra Diamonds
Trans Hex
Smaller and emerging diamond-mining companies 30–37
Alexkor
Delrand Resources
DiamondCorp
Firestone Diamonds
Lucara Diamond Corp
Rockwell Diamonds
---
Overall outlook for diamond sector 38
---
Main sources 39–44
item price: $350
Add to cart
View cart