creamer media
store
store home page

creamer media product
2011 Projects in Progress (Second edition)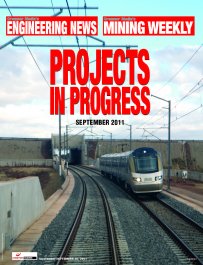 The ideal in any national economy is for the government to spend capital when the private sector ceases doing so. In this way, the downturn of the project cycle can be prevented from descending to a low and the upturn from rising too high. There is now an all-out – although excessively prolonged – effort to ensure that this takes place in South Africa.
The government's infrastructure development cluster is attempting to use the R860-billion public investment programme to realise the long-promised alignment of its infrastructure development plans with job generation and industrial recreation. Government has said that the economy needs to grow by 7% a year on a sustained basis to decrease the unemployment rate, which is currently at over 25%.
Current plans for large-scale infrastructure developments in South Africa, such as electricity plants, rail and road upgrades and water management schemes, are expected to sustain between 50 000 and 100 000 jobs in construction up to 2015. Thus this edition of Projects in Progress includes details on electricity, transport, water and environmentally centred 'green' development, as well as mining projects covering coal, gold, iron-ore, platinum, diamonds and uranium.
Published: 10 October 2011.
---
PROJECT INDEX
---
ENGINEERING PROJECTS
Electricity 3
Eskom's Arnot capacity increase project
Eskom's Ingula pumped-storage scheme
Eskom's Kusile power plant project
Eskom's Medupi power station project
Green Building Property Development 13
Absa Towers West office development
Menlyn Maine city precinct
Petrochemicals, Oil and Gas 16
PetroSA's Project Mthombo
Transport and Logistics 18
Gauteng Provincial Government's Gautrain rapid rail link
South African National Roads Agency Limited's Gauteng Freeway Improvement Project
Transnet's new multiproduct pipeline
Transnet's Phelophepa 2 healthcare train
Water and Sanitation
eThekwini water and sanitation projects
Trans-Caledon Tunnel Authority's Olifants River Water Resources Development Project Phase 2
---
MINING PROJECTS

Coal 29
BHP Billiton Energy Coal South Africa's Douglas/Middelburg optimisation project
Exxaro Resources' Grootegeluk Medupi expansion project
Rio Tinto and Riversdale Mining's Benga coal project
Rio Tinto and Riversdale Mining's Zambeze coal project
Sable Mining Africa and Delta Mining Consolidated's Rietkuil coal project
Sasol's Thubelisha coal mine project
Xstrata Coal's Arthur Taylor Colliery Opencast mining project
Diamonds 41
Debswana's Jwaneng Cut 8 project
Gold 43
Gold Fields' South Deep gold mine expansion project
Great Basin Gold's Burnstone gold project
Harmony Gold's Kusasalethu (formerly Elandsrand) project
Iron-ore 47
Assmang's Khumani iron-ore expansion project
Kumba Iron Ore's Kolomela iron-ore project
Other mining projects 51
Discovery Metals' Boseto copper project
Kalahari Resources' Kalagadi manganese project
Norilsk Nickel and African Rainbow Minerals' Nkomati nickel mine expansion
Platinum 56
Anglo American Platinum's Thembelani 2 (formerly Paardekraal 2) platinum mine shaft project
Anglo American Platinum's Twickenham platinum mine project
Anglo American Platinum's Unki platinum mine and concentrator plant
Impala Platinum's No 16 shaft project
Impala Platinum's No 17 shaft project
Impala Platinum's No 20 shaft project
Platmin's Pilanesberg platinum mine
Royal Bafokeng Platinum and Anglo American Platinum's Styldrift Merensky Phase 1 project
Western Bushveld Joint Venture's Project 1
Uranium 67
AngloGold Ashanti's Vaal River uranium recovery expansion/upgrade project
First Uranium's Mine Waste Solutions tailings recovery project
Paladin Resources' Langer Heinrich uranium mine Stage 2, 3 and 4 expansion projects
item price: $60
Add to cart
View cart