creamer media
store
store home page

creamer media product
2011 Real Economy Year Book (PDF Report)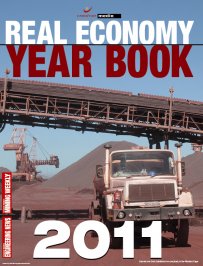 The outlook for South Africa's real economy remains clouded in a number of uncertainties, from the outlook for its currency and inflation, to whether the upturn in commodity prices will be sustained as China moves to cool its rate of expansion. A major imponderable, though, is whether the prevailing electricity shortages will completely undermine government's growth and employment aspirations, or whether the country will be able to successfully decouple from its energy intensive growth path.
Given that mining remains this country's primary competitive advantage, it appears unlikely that the South African economy will be able to turn its back on energy-intensive extraction, refining and industrial activities. Therefore, the focus is going to have to be on accelerating efforts to match capacity with growing demand, while insisting that existing and new power-intensive businesses use power far more efficiently. In this edition of the Real Economy Year Book, we take a look primarily at efforts to boost capacity, in the context of a "tight" supply-demand balance.
Published on: 14 July 2011.

item price: $175
Add to cart
View cart