creamer media
store
store home page

creamer media product
2011 Steel - a review of South Africa's steel sector (PDF Report)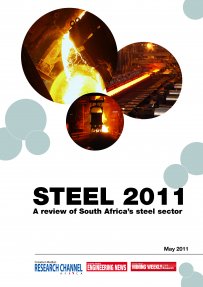 Since the beginning of 2010 the recovery of the global economy has been gaining momentum and this recovery is expected to continue. The global economic recovery is reflected in the steel industry, which saw a 15% increase in world crude steel production to 1 413,6-million tons for 2010, compared with 2009 – a new record for global steel production. Indicative of the past five years, China accounted for the largest share of crude steel production in 2010, followed by Japan, the US, Russia and India.
The US clawed its way back up to third place, following a 38,5% increase in production on the previous year, while India fell to fifth place. Creamer Media's Steel 2011 report - a review of South Africa's steel sector, offers insight into not only the global and South African steel markets in the aftermath of the global economic crisis, but also profiles the main steel and stainless steel producers operating in the country.
Should you be in the possession of a promotional code, note that the discounted rate will only apply after checkout when you enter the promotional code.
Published: 17 May 2011.
---
TABLE OF CONTENTS
---
List of abbreviations 1
---
Key developments 2
---
Global steel market 3–8
China
Japan
US
Russia
India
Consumption
---
South Africa's steel market 9–13
Pricing
Employment
South Africa's steel exports and imports
---
Primary carbon steel producers 14–23
ArcelorMittal South Africa
Evraz Highveld Steel & Vanadium
Scaw Metals Group
---
Global stainless steel market 24
---
South Africa's stainless steel market 25
---
Main sources 26–28
item price: $350
Add to cart
View cart