creamer media
store
store home page

creamer media product
Telecommunications 2011 (PDF Report)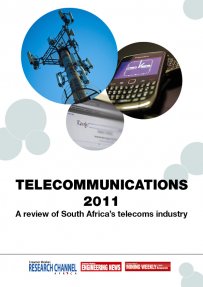 South Africa's fixed-line telecommunications market, which is valued at an estimated R41-billion a year, is still dominated by one-time monopoly Telkom, despite the licensing, several years ago, of a second fixed-line telecommunications operator, Neotel. However, analysts have been saying for years that Telkom has failed to react appropriately to South Africa's changing telecommunications landscape. Meanwhile, mobile telecommunications in South Africa, dominated by two operators – Vodacom and MTN – and the less established operator Cell C and the recently launched fourth mobile operator 8ta, have experienced phenomenal growth since the first mobile services were launched in 1994.
Market penetration of cellphones is expected to reach 104% in 2011, and the country has an estimated 51-million mobile telecommunications subscribers. Nonetheless, in the face of declining growth in the voice market, South Africa's fixed-line and mobile telecommunications sectors are following an international trend towards data transmission services, with operators relying progressively more on data services to sustain their performance. This report examines these trends and includes information on the structure of the sector, corporate activity and aspects of its legislative and policy environment among others.
Published on: 20 October 2011.
---
TABLE OF CONTENTS
---
List of abbreviations 1
---
Key developments 2
---
Fixed-line telecommunications 3–6
---
Mobile telecommunications 7-10
New entrant to the market
The original participants
---
Data communications 11-12
Fixed-line broadband
Mobile broadband
State participation
---
Regulatory environment 13-17
Interconnection rates
Local-loop unbundling
Consumer Protection Act
Regulation of Interception of Communications Act
Spectrum allocation
Quality of service
Carrier preselection
Number portability
---
Corporate activity 18-23
Black economic empowerment
Labour issues
Leadership challenges
---
Network development 24–26
Underserviced areas
---
South African operators elsewhere in Africa 27-29
---
International bandwidth 30-32
Seacom
Teams, Glo-1 and Lion
EASSy
Main One
Wacs
Ace
Prospects 33
---
Company profiles 34-4-
Telkom
Neotel
Vodacom
MTN
Cell C
Sentech
Broadband Infraco
---
Main sources 41



item price: $350
Add to cart
View cart