creamer media
store
store home page

creamer media product
2012 Coal Roundup for December 2011/January (PDF Report)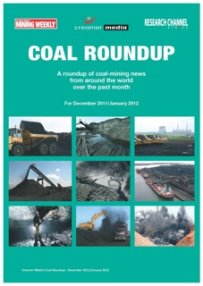 The Coal Roundup covers activities in the coal sector across the globe over the past month, focusing on exploration and feasibility studies, projects, operations, labour and safety issues, logistics, corporate activity and general trends in the sector. The December/January roundup includes details of Anglo American's new five-million-ton-a-year coal mine, Universal Coal's ambitions to become a midtier producer by 2015 and Vale's $1-billion rail line deal with the Malawi government.
The report draws on information available in the public domain. The report does not purport to provide analysis of market trends.
Published on: 03 January 2012.
---
Table of contents
---

Exploration and feasibility studies
Projects
Operations
Labour and safety
Logistics
Corporate
General trends

item price: $175
Add to cart
View cart