creamer media
store
store home page

NEW REPORT AVAILABLE
Africa Mining Projects in Progress 2018 (First Edition)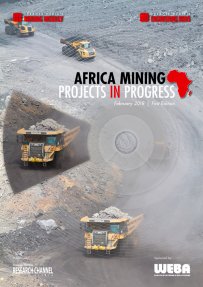 Investors are always searching for better opportunities, and Africa, with its vast mineral resources, offers an appealing environment. The continent hosts more than 60 metal and mineral products and has much potential with regard to mineral reserves exploration and production. Mining projects, when well managed, also offer opportunities to transform Africa's resource wealth into sustainable development in many of its countries countries.
This edition of Creamer Media's Africa Mining Projects in Progress highlights some of the prospective projects on the continent that have been announced focusing on recent preliminary economic assessments, scoping, prefeasibility and definitive/bankable feasibility studies, as well as some of the projects that are already under way.
Creamer Media's reports draws from material published over the past 12 months and are a summaries of other sources of information published in Engineering News and Mining Weekly, as well as of information available in the public domain.
This report does not purport to provide an analysis of market trends.
Published on: 05 February 2018.
item price: $350
Add to cart
View cart