creamer media
store
store home page

creamer media product
African Mining Roundup - December 2011/Janaury 2012 (PDF Report)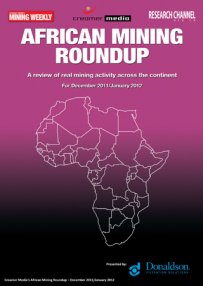 The African Mining Roundup is a synopsis of mining activity across the continent. The December/January roundup covers reports from over 20 countries, and includes over 130 separate news items in an easy-to-read disaggregated format. This electronic report includes details on Botswana's decision to lift its ban on new prospecting licences for coal, coal-bed methane and related minerals; Russian steelmaker Severstal increasing its shareholding in the Putu iron-ore project, in Liberia; and Australia-based Blackthorn Resources extraction of first ore from the Perkoa zinc joint venture, in Burkina Faso.
The report draws on information available in the public domain. The report does not purport to provide analysis of market trends.

Published: 10 February 2012.
---
TABLE OF CONTENTS
---
Exploration and feasibility studies
Projects
Operations
Corporate
General

item price: $175
Add to cart
View cart