creamer media
store
store home page

creamer media product
African Mining Roundup – September 2015 (PDF Report)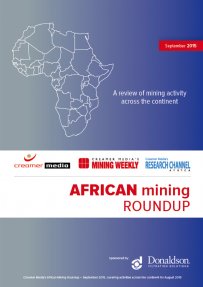 The African Mining Roundup is a synopsis of mining activity on the continent. The September 2015 roundup covers activities that happened in August in 28 countries. It includes about 120 separate news items in an easy-to-read, disaggregated format.
This month's report includes details of potash hopeful Elemental Minerals' launch of a bankable feasibility study on its Kola sylvinite project and a prefeasibility study at its Dougou carnalite project, in the Republic of Congo; diversified hopeful Lemur Resources' signing of a binding term sheet with JSE-listed explorer Sable Metals and Minerals to acquire stakes in three vanadium projects, in South Africa; and JSE-listed Petmin's subsidiary Tendele Coal Mining's conclusion of a two-year wage agreement with the Association of Mineworkers and Construction Union and National Union of Mineworkers.
This report is a summary of information published in Engineering News and Mining Weekly, as well as of information available in the public domain. The report does not purport to provide an analysis of market trends.
Published on: 04 September 2015.
item price: $175
Add to cart
View cart