creamer media
store
store home page

NEW REPORT AVAILABLE
Base Metals 2016: A review of Africa's base metals sector (PDF Report)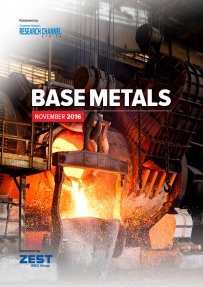 Given expectations of a recovery in demand in China – a major producer and consumer of base metals – many commentators seem to agree that base metals prices have now bottomed, with investor services and ratings agency Moody's stating in August 2016 that it had revised its outlook for the global base metals industry from 'negative' to 'stable'.
Creamer Media's Base Metals 2016 report examines the global base metals market, with a particular focus on supply and demand; the production of copper, zinc, nickel and lead in the African market, and on selected base metals operations and projects in Africa.
This report is a summary of information published in Engineering News and Mining Weekly, as well as of information available in the public domain and does not purport to provide an analysis of market trends.
Published on: 04 November 2016.
item price: $350
Add to cart
View cart