creamer media
store
store home page

NEW REPORT AVAILABLE
Base Metals 2017: A review of Africa's base metals sector (PDF Report)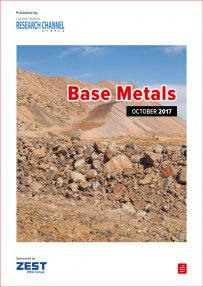 After declining by a collective 23.43% in 2015, base metals have rebounded since 2016 and the fundamentals suggest that a major reversal of this trend is unlikely to occur in the near term.
Creamer Media's Base Metals 2017 report examines the global base metals market, with a particular focus on the supply and demand of copper, zinc, nickel and lead in the African market, and on selected base metals operations and projects on the continent.
This report is a summary of information published in Engineering News and Mining Weekly, as well as of information available in the public domain and does not purport to provide an analysis of market trends.
Published on: 23 October 2017.
item price: $350
Add to cart
View cart