creamer media
store
store home page

creamer media product
Canadian Mining Roundup – November 2015 (PDF Report)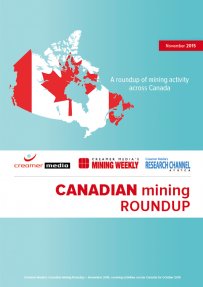 The Canadian Mining Roundup is a business and information tool for decision-makers in the sector and covers activities in the Canadian mining sector over the past month. The roundup presents the information in an easy-to-read disaggregated format, covering exploration and feasibility studies, projects, operations, labour and safety, logistics, corporate activity and general trends in the sector, as well as details of Canadian companies operating in other countries.
This month's roundup includes details of project developer Arianne Phosphate's favourable outcome from public hearings conducted by Quebec's Office of Public Hearings on the Environment for its Lac à Paul project, in the Saguenay-Lac-Saint-Jean region; triple-listed Endeavour Mining's record gold production for the quarter ended September 30; and Minera IRL's decision to delist from the TSX.
This report is a summary of information published in Engineering News and Mining Weekly, as well as of information available in the public domain, and does not purport to provide an analysis of market trends.
Published on 04 November 2015.
item price: $175
Add to cart
View cart