creamer media
store
store home page

NEW REPORT AVAILABLE
Construction 2021: "Things are not looking good" (PDF Report)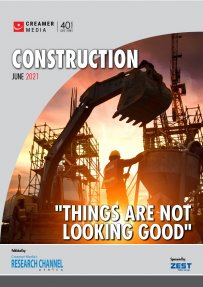 There is great optimism that South Africa's much promised infrastructure-led recovery will finally be implemented from late 2021 onwards. These projects will, however, only play a role in South Africa's economic recovery if they break ground.
Further, unless the Covid-19 pandemic is brought under control and the mass vaccination campaign expertly implemented, the year will not be the pivotal one required for placing the sector, and the economy, on a new growth trajectory, Siemens South Africa CEO Sabine Dall'Omo has warned.
National Construction Incubator CEO Patricia Chalwa expressed her concern in an SABC interview in January 2021 that the construction industry, which has undergone significant churn in recent years, would be experiencing tough conditions for the foreseeable future. "Things are not looking good," Chalwa noted, stating that there was going to be some kind of growth within the construction space, but that the reality was that even if there was 1% growth between 2021 and 2024 within the construction space, those were just figures "being thrown about".
Creamer Media's Construction 2021 Report examines South Africa's construction industry over the past 12 months. The report provides insight into the business environment in the construction sector, key participants, local demand, corporate activity of the country's major construction companies, as well as issues such as transformation, employment, safety and the dearth of skills in the sector.
This report is a summary of information published in Engineering News and Mining Weekly, as well as of information available in the public domain over the past 12 months.

The report does not purport to provide analysis of market trends.
The information in this report is correct as of June 2, 2021.
Published on: 23 June 2021.
item price: $350
Add to cart
View cart