creamer media
store
store home page

NEW REPORT AVAILABLE
Diamonds 2016: A review of South Africa's diamond sector (PDF Report)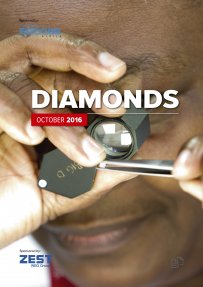 Although the first half of 2016 has signaled more stability in the diamond market after a turbulent 2015, volatility has become the near normal and the industry maintains a cautious outlook in the near term as significant global economic uncertainty remains.
Ratings agency Moody's believes that diamond miners will be under pressure until the end of 2016 or mid-2017, owing to a temporary supply and demand mismatch, which has resulted in lower rough diamond prices. Although, it notes that production cutbacks should help to rebalance the market.
In the long term, however, a lack of new diamond discoveries and high depletion rates for existing mines should prevent a supply glut.
Creamer Media's Diamond 2016 report provides an overview of the world diamond market, which includes a look at rough diamond production, supply and demand, imports and exports, and synthetic diamonds. The report emphasises diamond mining activities in South Africa over the past 12 months, and provides information on the country's major and midtier diamond producers, junior diamond mining companies, explorers and developers.
The report is a summary of information published in Creamer Media's Engineering News and Mining Weekly, as well as information available in the public domain and does not purport to provide analysis of market trends.
Published on: 26 October 2016.
item price: $350
Add to cart
View cart