creamer media
store
store home page

NEW REPORT AVAILABLE
Diamonds 2017: A review of Southern Africa's diamond sector (PDF Report)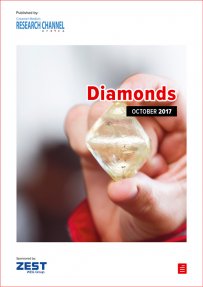 The diamond industry has faced much volatility in recent years and, although there were signs of improving market conditions in 2016 and so far in 2017, some uncertainty remains.
Some market analysts questioned whether the industry has reached peak supply and point to the unlikelihood of mining companies finding any further large diamond deposits. Many believe that the best resources have been discovered.
Miners worldwide, however, continue to explore for new deposits and the biggest miners are also investing in expansion projects, while smaller miners are working to bring new mines into production.
Creamer Media's Diamond 2017 report provides an overview of the world diamond market, which includes a look at rough diamond production, supply and demand, imports and exports, and synthetic diamonds. The report emphasises diamond mining activities in South Africa over the past 12 months, and provides information on the country's major and midtier diamond producers, junior diamond mining companies, explorers and developers.
The report is a summary of information published in Creamer Media's Engineering News and Mining Weekly, as well as information available in the public domain and does not purport to provide analysis of market trends.
Published on: 30 October 2017.
item price: $350
Add to cart
View cart