creamer media
store
store home page

NEW REPORT AVAILABLE
Diamonds 2018: A review of the diamond sector (PDF Report)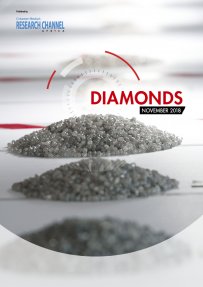 Most of the high-economic diamond deposits in the world have been put into production or have even been depleted. Therefore, mining companies will either choose to expand their existing mines, which will impact on their economics, or acquire greenfield projects to maintain production. However, large-scale greenfield diamond projects have become a rare find and, as a result, miners are finding it difficult to replenish their depleting diamond resources.
The potential impact of synthetic, or lab-grown, diamonds has attracted much interest, as they are almost indistinguishable from mined diamonds and are becoming cheaper to manufacture. Further, as a result of effective marketing by the lab-grown diamond industry, some consumers are willing to buy these diamonds, as many also consider them to be more environment-friendly and carry assurances that they are not conflict minerals.
However, even though technology now allows for more gem-quality lab-grown diamonds to be produced, this still totals less than five‑million carats a year, compared with about 60‑million carats of gem-quality diamonds mined a year.
Creamer Media's Diamond 2018 report provides an overview of the world diamond market, including rough diamond production, supply and demand, imports and exports, and synthetic diamonds. The report emphasises diamond mining activities in South Africa over the past 12 months, and provides information on the country's major and midtier diamond producers, junior diamond mining companies, explorers and developers.
The report is a summary of information published in Creamer Media's Engineering News and Mining Weekly, as well as information available in the public domain and does not purport to provide analysis of market trends.
Published on: 09 November 2018.
item price: $350
Add to cart
View cart