creamer media
store
store home page

creamer media product
Energy Roundup - December 2015 (PDF Report)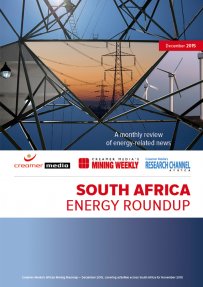 Creamer Media's Energy Roundup is a monthly report providing a synopsis of energy-related news from South Africa during the past month.
The December 2015 roundup includes details of State-owned utility Eskom's application to claw back R22.8-billion; South Africa's ranking as an investment destination for renewable energy; and a nuclear expert's thoughts on reactor designs for South Africa's nuclear procurement programme, among other news.
The report is a summary of information published in Engineering News and Mining Weekly, as well as of information available in the public domain, and does not purport to provide an analysis of market trends.
Published on: 07 December 2015.
item price: $175
Add to cart
View cart