creamer media
store
store home page

creamer media product
Energy Roundup – April 2016 (PDF Report)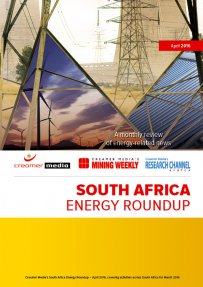 Creamer Media's Energy Roundup is a monthly report providing a synopsis of energy-related news from South Africa during the past month.
The April 2016 roundup covers activities across South Africa for March 2016 and includes details of a North Gauteng High Court Judge's dismissal of a court application to postpone the 9.4% electricity tariff increase, which the National Energy Regulator of South Africa approved on March 1; the inauguration of the second phase of renewable-energy project developer Solar Capital's De Aaar solar farm project; and the World Bank Group's Multilateral Investment Guarantee Agency's extension of €698.9-million in guarantees to Eskom to support transmission infrastructure investments.
The report is a summary of information published in Engineering News and Mining Weekly, as well as of information available in the public domain, and does not purport to provide an analysis of market trends.
Published on: 05 April 2016.
item price: $175
Add to cart
View cart