creamer media
store
store home page

RESEARCH REPORT
Energy Roundup – August 2017 (PDF Report)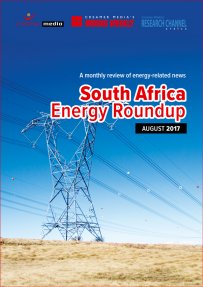 Creamer Media's Energy Roundup is a monthly report providing a synopsis of energy-related news from South Africa in the past month.
The August 2017 roundup covers activities across South Africa in July 2017, and includes details of the National Energy Regulator of South Africa's call for written comments on an application by State-owned power utility Eskom to implement a two-year incentive pricing package that will allow for the restart of ferrosilicon production in Limpopo and Mpumalanga; State-owned power utility Eskom's sharp fall in after-tax profits; and the Democratic Republic of Congo's decision to more than double the size of its planned Inga 3 hydroelectric plant.
The report is a summary of information published in Engineering News and Mining Weekly, as well as of information available in the public domain, and does not purport to provide an analysis of market trends.
Published on: 10 August 2017.
item price: $175
Add to cart
View cart