creamer media
store
store home page

RESEARCH REPORT
Energy Roundup – December 2017 (PDF Report)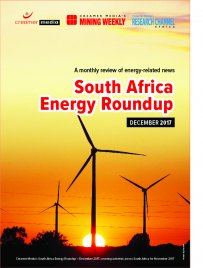 Creamer Media's Energy Roundup is a monthly report providing a synopsis of energy-related news from South Africa in the past month.
The December 2017 roundup covers activities across South Africa in November 2017, and includes details of South African Academy of Engineering call for a moratorium on the procurement of new electricity generation capacity; Greenpeace Africa and the Southern African Faith Communities' Environment Institute notice to jointly appeal the environmental authorisation for the construction and operation of a new nuclear power station in Duynefontein, in the Western Cape; and Bushveld Energy's deployment of its first utility-scale vanadium redox flow battery
The report is a summary of information published in Engineering News and Mining Weekly, as well as of information available in the public domain, and does not purport to provide an analysis of market trends.
Published on: 06 December 2017.
item price: $175
Add to cart
View cart