creamer media
store
store home page

RESEARCH REPORT
Energy Roundup – December 2020 (PDF Report)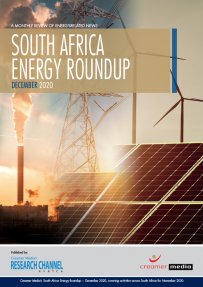 Creamer Media's Energy Roundup is a monthly report providing a synopsis of energy-related news from South Africa.
The December 2020 roundup covers activities in November 2020, and includes details of a report by Climate Transparency, which warns against quick-fix Covid-19 stimulus packages that favour fossil fuel industries; six steps that could be taken immediately by the South African government and the energy regulator to unlock more self-generation investment to combat power shortages and reduce the threat of load-shedding; and South Africa's Department of Environment, Forestry and Fisheries' order that State-owned power utility Eskom comply with pollution limits at three of its coal-fired power plants.
The report is a summary of information published in Engineering News and Mining Weekly, as well as of information available in the public domain, and does not purport to provide an analysis of market trends.
Published on: 08 December 2020.
item price: $175
Add to cart
View cart