creamer media
store
store home page

RESEARCH REPORT
Energy Roundup – July 2020 (PDF Report)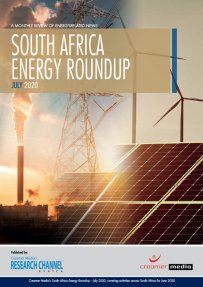 Creamer Media's Energy Roundup is a monthly report providing a synopsis of energy-related news from South Africa.
The July 2020 roundup covers activities in June 2020, and includes details of State-owned power utility Eskom's plans to issue a R1-billion sukuk bond; Eskom's newly created just energy transition project office, which is evaluating green financing options; and calls for the Department of Mineral Resources and Energy to urgently review the regulatory methodology being used by the National Energy Regulator of South Africa to set Eskom tariffs.
The report is a summary of information published in Engineering News and Mining Weekly, as well as of information available in the public domain, and does not purport to provide an analysis of market trends.
Published on: 07 July 2020.
item price: $175
Add to cart
View cart