creamer media
store
store home page

RESEARCH REPORT
Energy Roundup – July 2021 (PDF Report)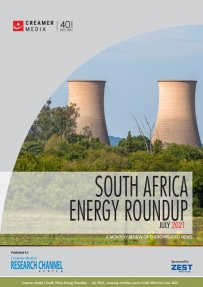 Creamer Media's Energy Roundup is a monthly report providing a synopsis of energy-related news from South Africa.
The July 2021 roundup covers activities in June 2021 and includes details of the licence-exemption cap for self- or distributed-generation plants announced by South African President Cyril Ramaphosa; the additional projects added to the Department of Mineral Resources and Energy's Risk Mitigation Independent Power Producer Procurement Programme (RMIPPPP); and the Department of Forestry, Fisheries and the Environment's decision to decline three environmental authorisation applications submitted by Karpowership SA for the development of gas-to-power projects under the RMIPPPP.
The report is a summary of information published in Engineering News and Mining Weekly, as well as of information available in the public domain, and does not purport to provide an analysis of market trends.
Published on 7 July 2021.
item price: $175
Add to cart
View cart