creamer media
store
store home page

RESEARCH REPORT
Energy Roundup – September 2020 (PDF Report)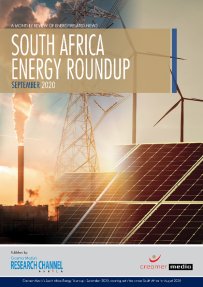 Creamer Media's Energy Roundup is a monthly report providing a synopsis of energy-related news from South Africa.
The September 2020 roundup covers activities in August 2020, and includes details of State-owned power utility Eskom and the Special Investigating Unit's issuance of summonses in the North Gauteng High Court on August 3 to recover funds from former Eskom executives, board members and members of the Gupta family and their associates, as well as others; the much-anticipated procurement process for 2 000 MW of 'emergency power' under the so-called Risk Mitigation Independent Power Producer Procurement Programme; and chemicals and energy group Sasol's plans to issue a request for proposals for wind and solar projects with a combined capacity of between 200 MW and 300 MW.
The report is a summary of information published in Engineering News and Mining Weekly, as well as of information available in the public domain, and does not purport to provide an analysis of market trends.
Published on: 4 September 2020.
item price: $175
Add to cart
View cart