creamer media
store
store home page

NEW REPORT AVAILABLE
Gold 2017: A review of South Africa's gold sector (PDF Report)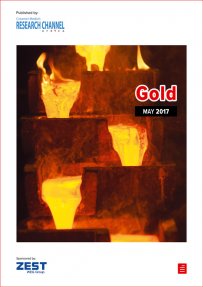 Despite sizeable gold reserves and high-grade orebodies, South Africa's gold production has stagnated in recent years, with figures from the World Gold Council showing that the country's gold production, which amounted to an estimated 167.10 t in 2016, remained virtually the same as the 167.20 t produced in 2015. This has positioned South Africa as the seventh-largest gold producer in the world, a position which some have speculated is likely to remain.
In this context, Creamer Media's Gold 2017 report reviews the global gold market, with a particular focus on the South African gold sector, including issues, such as supply, labour, and electricity shortages, which are affecting the sector. It also reviews the major and smaller mining companies with operations in South Africa.
This report draws from material published over the past 12 months and is a summary of other sources of information published in Engineering News and Mining Weekly, as well as of information available in the public domain. This report does not purport to provide an analysis of market trends.
Published on: 09 May 2017.
item price: $350
Add to cart
View cart