creamer media
store
store home page

NEW REPORT AVAILABLE
Liquid Fuels 2018: A review of South Africa's liquid fuels sector (PDF Report)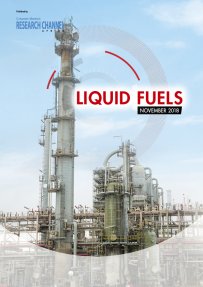 The rising price of crude oil – influenced by geopolitical tension – and the depreciation of the rand against the US dollar are the main contributors to the recent sharp increases in South Africa's fuel price. The price of petrol reached a record-high on October 1, 2018, with 95 grade in Gauteng breaking the R17/ℓ mark.

Government has indicated that it is keen to bolster the country's supply of refined products. The National Development Plan suggests five options – a new oil-to-liquids refinery, a new coal-to-liquids plant, the upgrading of existing refineries, importing refined product and partnering with Angola or Nigeria on a refinery. Energy Minister Jeff Radebe has also suggested that South Africa produces its own gas, highlighting the significance of the shale gas resources in the Karoo basin.
Creamer Media's Liquid Fuels 2018 report examines these issues in the context of South Africa's business environment, including the country's refining capacity; the proposed introduction of cleaner fuels; the development of the country's biofuels industry; fuel pricing; the logistics of transporting liquid fuels; oil and gas exploration, as well as an overview of the global market.
This report is a summary of information published in Engineering News and Mining Weekly, as well as of information available in the public domain over the past 12 months.
The report does not purport to provide analysis of market trends.
Published on: 07 November 2018.
item price: $350
Add to cart
View cart