creamer media
store
store home page

NEW REPORT AVAILABLE
Platinum 2018: A review of South Africa's platinum sector (PDF Report)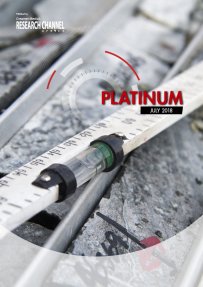 In what could be described as a lacklustre year for the platinum industry, 2017 saw platinum group metal prices plummeted in 2017, owing to a drop in gross demand, which fell by 2% to 8.17‑million ounces, leaving the market with a 250 000 oz supply surplus. South African producers have also faced the challenges of rising costs, regulatory uncertainties and safety stoppages, which have impacted on an already constrained global platinum market.
Creamer Media's Platinum 2018 report provides a global overview of the platinum market, with a particular focus on South Africa's platinum-sector business and regulatory environment. The report includes commentary on the main participants in South Africa's platinum industry, other platinum producers, and exploration and development companies.
This report is a summary of information published in Engineering News and Mining Weekly, as well as of information available in the public domain.
The report does not purport to provide analysis of market trends.
Published on: 11 June 2018.
item price: $350
Add to cart
View cart