creamer media
store
store home page

NEW REPORT AVAILABLE
Platinum 2020: A review of South Africa's platinum sector (PDF Report)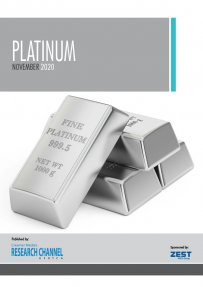 Owing to Covid-19-associated impacts, the World Platinum Investment Council forecasts that platinum supply in 2020 will be 14% lower year-on-year, at 7.10-million ounces, reflecting a 15% decline in refined production and a 12% decline in recycling supply on 2019 figures. The council expects demand to be 11% lower than the 2019 figure, at 7.43-million ounces, resulting in a deficit of 336 000 oz.
Creamer Media's Platinum 2020 Report considers these figures in light of the challenges that South Africa's platinum group metals sector has been facing over the past few years, including unreliable electricity supply, coupled with steep and unpredictable tariff increases, as well as steep increases in the costs of other inputs such as labour and other essentials. The report also provides an overview of the global platinum sector.
Creamer Media's report draws from material published over the past 12 months and is a summary of information published in Engineering News and Mining Weekly, as well as information available in the public domain.
Published on: 10 November 2020.
item price: $350
Add to cart
View cart