creamer media
store
store home page

creamer media product
2010 Platinum-Group Metals
(PDF Report)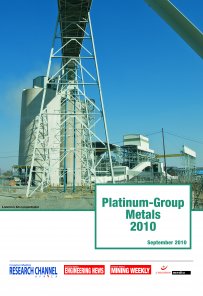 This report offers insight into the global and South African platinum-group metals industry, and profiles the main producers operating in the country.
Published: 27 September 2010.
---
TABLE OF CONTENTS
---
List of abbreviations 1
---
Major sources of platinum-group metals 2-3
South Africa
Russia
North America
Zimbabwe
---
Global market 4-7
Platinum
Palladium
Rhodium
Ruthenium
Iridium
Note: The global market section of this report draws heavily on the Johnson Matthey Platinum 2010 report. Johnson Matthey is the world's leading authority on the production, supply and use of PGMs. The company's scope includes the manufacture of autocatalysts, process catalysts and speciality chemicals, and the refining, fabrication and marketing of PGMs.
---
Main participants in the PGM sector 8-29
Anglo Platinum
Impala Platinum
Lonmin
Northam Platinum
Aquarius Platinum
Arm Platinum
---
Other platinum miners and explorers 30-43
Absolute Holdings (Bauba Platinum)
Anooraq Resources
Eastern Platinum
Jubilee Platinum
Nkwe Platinum
Platinum Group Metals
Royal Bafokeng Holdings
Sylvania Resources
Village Main Reef Gold Mining Company
Wesizwe Platinum
Xstrata Alloys
---
Main Sources 44-45
item price: $350
Add to cart
View cart