creamer media
store
store home page

creamer media product
Projects in Progress 2017 - Second Edition (PDF Report)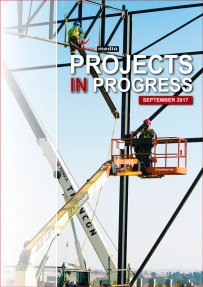 The most significant development in the project economy over the past six months has arguably been the announcement that government will facilitate the signing, by State-owned power utility Eskom, of outstanding power purchase agreements (PPAs) for 26 renewable-energy projects. Collectively, the projects carry an investment value of about R50-billion and some of that value will eventually flow towards local construction firms and component suppliers.
However, there is a sting in the tail, which could yet affect whether all the projects proceed to construction.
In attempting to break an impasse that has endured ever since the solar and wind projects were formally procured in late 2015, Energy Minister Mmamoloko Kubayi has indicated that Eskom will sign the PPAs with the proviso that the tariffs are renegotiated to below 77c/kWh.
This may well be possible for some projects, but not for all. Therefore, it is going to be important to monitor how flexible government will be on the cap. Should there be wriggle room north of 77c/kWh, it is likely that most of the projects could well proceed to signing on October 28.
That said, the proposed remedy has introduced a new risk factor (at least in the electricity environment) that has not previously been present. Until now, the main risk for participants in South Africa's world-renowned Renewable Energy Independent Power Producer Procurement Programme (REIPPPP) has related to time delays. However, Kubayi's announcement suggests that government is now far less reluctant to intervene on the commercial aspects, even once a formal procurement has been concluded.
Hopefully such retrospective interference will be limited to bid windows 3.5 and 4 of the REIPPPP. However, participants in other infrastructure sectors will, no doubt, be watching for any sign of contagion beyond the renewable-energy sector.
Outside of the energy sector, the project economy continues to tick over, albeit at an uninspiring pace. State-owned logistics group Transnet has confirmed a significant pull-back in its investment plans, while no new large-scale Eskom projects are likely in light of the utility's balance sheet stresses. Of the State-owned companies, only the South African National Roads Agency has added any new projects of significance over the past few months. However, there has been some progress with regard to adding capacity to the Gautrain passenger rail system.
Private fixed investment, meanwhile, remains under pressure as a result of weak economic growth in South Africa and ongoing policy uncertainty, particularly in the mining industry.
However, this Projects in Progress edition does feature some interesting project developments being undertaken by Sasol in neighbouring Mozambique.
Nevertheless, we trust our second Projects in Progress supplement for this year includes valuable updates on and insights into some of the largest fixed investment programmes under way in South Africa and the Southern African region.
Creamer Media's reports draws from material published over the past 12 months and are summaries of other sources of information published in Engineering News and Mining Weekly, as well as of information available in the public domain.
This report does not purport to provide an analysis of market trends.
Published on: 29 September 2017.
item price: $60
Add to cart
View cart