creamer media
store
store home page

creamer media product
Projects in Progress 2020 - First Edition (PDF Report)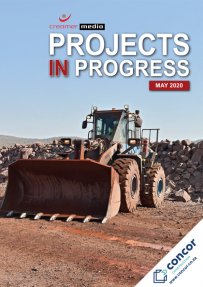 Beyond the Covid-19 storm
The economic damage that has followed in the wake of legitimate government efforts to stave off the Covid-19 storm is becoming clearer by the day, along with how incredibly challenging it is going to be to navigate our way out of it.
Thousands of businesses are in grave peril and millions of jobs are at risk. Business confidence has fallen precipitously, and most major capital investments are either being delayed, deferred or cancelled as business leaders turn their attention from growth to survival.
The R500-billion support package announced by President Cyril Ramaphosa on April 21 has helped reduce the distress somewhat, but is wholly insufficient to entirely alleviate the social and economic pain. Worryingly, too, is that government's fiscal limitations will make it difficult to increase support to a level fully commensurate with the scale of the crisis.
What is becoming clearer, however, is that to repair the damage will require that any additional stimulus, no matter how limited, includes a sizeable infrastructure component and crowds in public and private capital, and skills.
As is well documented, the multiplier effects associated with deploying stimulus resources towards infrastructure are significant. Such projects do not only put people to work immediately and create durable assets but also stimulate opportunities across the full project supply chain, from manufacturing upstream to catering downstream.
If well selected, the short-term growth impetus provided by building new power plants, highways, clinics or schools will also provide stimulus for long-term growth momentum and improve developmental outcomes.
Many governments will also proactively couple their post Covid-19 stimulus packages to clean energy amid a growing recognition that climate change poses as great an existential risk in the long term as the pandemic does immediately. South Africa, with its formidable renewables resources, would do well to do the same.
As part of the recovery effort, it will also be critical for those projects that were already under way ahead of the lockdown to be completed.
This publication showcases some of those large-scale mining, industrial and infrastructure projects initiated well ahead of the lockdown. What is immediately clear from the pages that follow is that the stock of productive and infrastructure projects was already insufficient to not only address prevailing backlogs, but also stimulate the investment-led growth required to help this country deal with its serious social problems.
For that pipeline to be replenished in a way that is fully aligned with the needs of a post-pandemic world, more urgency is required to implement the much-needed structural reforms that would provide investors with the confidence they require to proceed with new fixed-investment projects.
During the Covid-19 crisis, some positive new collaboration has emerged between government and its social partners. This collaboration should now be extended and strengthened to ensure that all South Africans can work together to steepen the recovery curve while keeping the infection curve as flat as possible.
item price: $60
Add to cart
View cart