creamer media
store
store home page

creamer media product
Real Economy Year Book 2018 (PDF Report)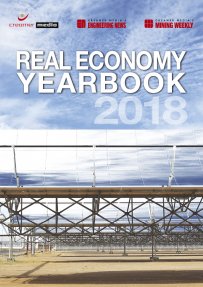 During President Cyril Ramaphosa's mea culpa social call on Desmond Tutu in May, the Archbishop Emeritus urged Ramaphosa to ensure that his much-vaunted 'New Dawn' did not turn out to be a 'false dawn'.
Without doubt, all well-meaning South Africans share Tutu's sentiments. The overwhelming majority of citizens, including those in business, are desperate to see South Africa succeed economically and increasingly yearn for a more just, caring and equitable, as well as safer, society.
Goodwill will be necessary, but insufficient to reignite growth- and job-stimulating investment. Trust and confidence remain fragile, and fresh uncertainty has also undoubtedly emerged as a result of the current debate about how best to proceed on much-needed land reform. It is up to government to take the lead in helping to rebuild greater resilience and confidence.
The way it deals with the land debate will be a critical test, but so will its handling of issues as diverse as State-owned power utility Eskom's sustainability, the next iteration of the Mining Charter and municipal competence. Without rapid and sustained progress across multiple fronts, Tutu's warning of a false dawn could prove dreadfully prophetic.
Published on: 29 June 2018.
item price: $175
Add to cart
View cart