creamer media
store
store home page

NEW REPORT AVAILABLE
Telecoms 2016: A review of South Africa's telecommunications sector (PDF Report)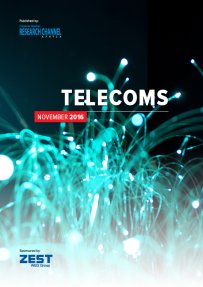 The South African telecommunications industry has grown into a multibillion-rand business, generating revenue of R147‑billion in 2015 and providing employment for about 31 000 people.
In line with global trends, the country's telecommunications industry is constantly changing, as consumer and business users require more bandwidth and processing speed. Network operators are focusing on meeting this demand, which is reflected in major capital investments in infrastructure.
Further, to help bridge the digital divide, the Department of Telecommunications and Postal Services has released a National Integrated Information and Communications Technology Policy White Paper, which details how government plans to provide access to modern communications infrastructure and services for all citizens.
Creamer Media's Telecoms 2016 report reviews South Africa's telecommunications market and the major companies operating in the sector. The report provides information on the country's voice and data communications, network investments, international connectivity and corporate activity in the sector. It also provides an overview of policy and regulatory developments in the sector, among other aspects.
This report is a summary of information published in Engineering News and Mining Weekly, as well as of information available in the public domain and does not purport to provide an analysis of market trends.
Published on: 11 November 2016.
item price: $350
Add to cart
View cart