creamer media
store
store home page

creamer media product
Uranium 2015: A review of the uranium mining industry in Africa (PDF Report)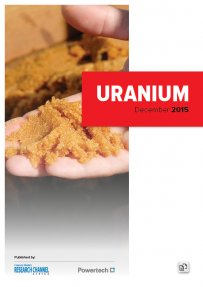 Four-and-a-half-years after Japan's major nuclear disaster, there are signs that the global uranium market is shaking off its post-Fukushima slump. Japan has restarted some of its nuclear power reactors, the US has renewed its commitment to nuclear power and China is pushing ahead with its nuclear expansion. These developments are providing a boost to the uranium market, which has suffered a decrease in demand after the March 2011 triple meltdown of the Fukushima Daiichi nuclear power plant, in Japan.
According to the World Nuclear Association, there are currently 438 operable reactors around the world, 65 reactors in the construction phase and 165 reactors in the planning phase. A further 324 reactors are on the drawing board.
Creamer Media's Uranium 2015 report examines the global uranium market in the context of demand, supply, pricing and market outlook, with a particular focus on the African uranium market and the mines, projects and exploration that are currently under way on the continent.
This report draws from material published over the past 12 months and is a summary of other sources of information published in Engineering News and Mining Weekly, as well as information available in the public domain. This report does not purport to provide an analysis of market trends.
Published on: 07 December 2015.
item price: $350
Add to cart
View cart