creamer media
store
store home page

NEW REPORT AVAILABLE
Africa Mining Projects in Progress 2016 - Second Edition (PDF Report)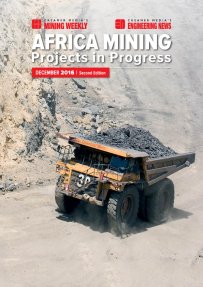 While the African continent remains "a treasure trove" of metals and minerals, with some of the last unexplored mineral tenements on earth, investment is needed in new exploration projects to ensure the long-term sustainability of its mining sectors.
Further, Deloitte Emerging Markets & Africa MD Dr Martyn Davies said in November 2016 during a webcast precursor of the 2017 edition of the Investing in African Mining Indaba: "Bold, progressively minded leadership is what is . . . required for Africa to unlock its full potential in the mineral resources sphere."
Given this setting, the second edition of Creamer Media's Africa Mining Projects in Progress 2016 showcases some of the many mining projects across the continent that are progressing, despite the sector facing many challenges, including the difficulty of raising capital, as well as socioeconomic and regulatory challenges.
Creamer Media's report draws from material published over the past 12 months and is a summary of other sources of information published in Engineering News and Mining Weekly, as well as of information available in the public domain.
This report does not purport to provide an analysis of market trends.
Published on: 15 December 2016.
item price: $350
Add to cart
View cart