creamer media
store
store home page

creamer media product
African Mining Roundup – December 2015 (PDF Report)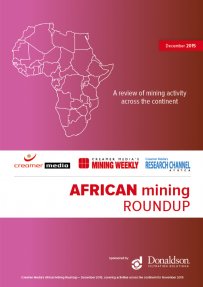 The African Mining Roundup is a synopsis of mining activity on the continent. The December 2015 roundup covers activities that happened in November in more than 20 countries. It includes about 100 separate news items in an easy-to-read, disaggregated format.
This month's report includes details of an optimisation study on Bannerman Resources' Etango uranium project, in Namibia; the start of construction at Vancouver-based B2Gold's Fekola mine site, in Mali, where the company is building a 350 000 oz/y gold mine; and details of diamond miner Lucapa Diamonds' sale of its seventh parcel of diamonds from the Lulo project, in Angola.
This report is a summary of information published in Mining Weekly, as well as of information available in the public domain. The report does not purport to provide an analysis of market trends.
Published on: 03 December 2015.
item price: $175
Add to cart
View cart