creamer media
store
store home page

creamer media product
Automotive 2016: A review of South Africa's automotive sector (PDF Report)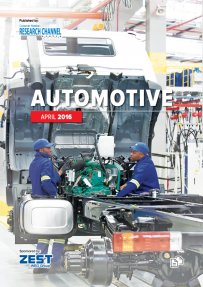 Figures from the National Association of Automobile Manufacturers of South Africa show that 617 749 new vehicles were sold in South Africa in 2015, marking a decline of 4% on the sales recorded in 2014 and representing the second consecutive year of decline for this indicator. In March this year it indicated that it expected overall demand for new vehicles in South Africa to decline to 564 500 in 2016, almost a 9% decrease in demand from 2015. Reasons for such a decline pertain to a generally unfavourable outlook for the South African economy, with the anticipation that domestic economic growth will remain constrained in 2016 and 2017.
Creamer Media's Automotive 2016 Report provides an overview of South Africa's automotive industry over the past 12 months. The report provides insight into local demand and production, vehicle imports and exports, investment and competitiveness in the sector, as well as environmental considerations.
This report draws from material published over the past 12 months and is a summary of other sources of information published in Engineering News and Mining Weekly, as well as of information available in the public domain. This report does not purport to provide an analysis of market trends.
Published on: 26 April 2016.
item price: $350
Add to cart
View cart