creamer media
store
store home page

NEW REPORT AVAILABLE
Coal 2016: A review of South Africa's coal sector (PDF Report)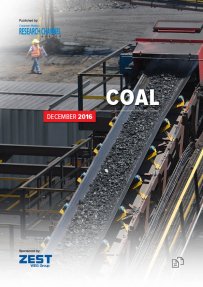 Countries worldwide are striving to reduce their greenhouse-gas emissions to mitigate against climate change by investing in cleaner energy sources, including renewable energy, gas and nuclear. This is likely to impact, to some extent, on global coal consumption in the decades to come. Despite expected lower global demand growth, however, coal remains the top fuel for electricity generation, steel production and cement production, and is expected to remain a significant contributor to meeting the world's energy needs.
This is particularly true of South Africa, which is expanding its coal-fired power generation capacity. State-owned power utility Eskom is still adding capacity through its new-build Kusile and Medupi power plants, while a third new large coal-fired power station – Coal 3 – has been under consideration for years. The country's Department of Energy also announced the first preferred bidders under its Coal Baseload Independent Power Producer Procurement Programme this year, which is expected to eventually contribute 2 500 MW to South Africa's coal-fired power generation.
Creamer Media's Coal 2016 report examines South Africa's coal industry with regard to the business environment, key participants in the sector, local demand, export sales and coal logistics, projects being undertaken by the large and smaller participants in the market, as well as various issues affecting the sector, such as industrial action and environmental considerations, among other topics.
Creamer Media's report draws from material published over the past 12 months and is a summary of other sources of information published in Engineering News and Mining Weekly, as well as of information available in the public domain.
This report does not purport to provide an analysis of market trends.
Published on: 14 December 2016.
item price: $350
Add to cart
View cart