creamer media
store
store home page

NEW REPORT AVAILABLE
Construction 2017: A review of South Africa's construction sector (PDF Report)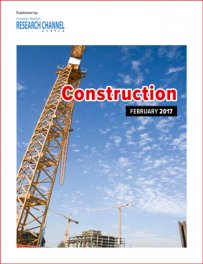 The low-growth forecast for the South African economy does not bode well for the short-term prospects of the local construction industry, although the medium- to long-term outlook appears more favourable. The International Monetary Fund has forecast economic growth of less than 1% for the country in 2017, while the National Treasury has pegged its growth estimate at 1.3% for the year, improving to 2% in 2018 and 2.2% in 2019.
Nonetheless, government infrastructure investment programmes are expected to continue over the medium term, despite pressure on public capital expenditure, owing to fiscal concerns. Substantial investments are expected in energy, transport, housing, water and sanitation. The bleak outlook for economic growth will continue to weigh on private-sector project investments. However, construction activity is expected to increase, although at a subdued pace.
Creamer Media's Construction 2017 Report examines South Africa's construction industry over the past 12 months. The report provides insight into the business environment, key participants, local demand, international expansion, competition and industry settlement activities, corporate activity of the country's major construction companies, and issues such as the shortage of skills and safety issues.
This report draws from material published over the past 12 months and is a summary of other sources of information published in Engineering News and Mining Weekly, as well as of information available in the public domain.
This report does not purport to provide an analysis of market trends.
Published on: 03 February 2017.
item price: $350
Add to cart
View cart