creamer media
store
store home page

creamer media product
E-Magazine & Online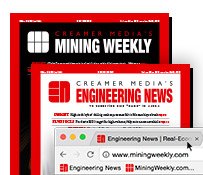 Gain online access to:
Weekly e-Magazines of Engineering News and Mining Weekly
Project Browser - providing an overview of latest developments and useful contract and contact information. Projects can be sorted by industry or mining sector, location or value.
The Creamer Media database of published material dating back to 1999
Advanced search function enabling the execution of structured database searches
Full access to the mobi sites
NOTE:
You may complete your transaction now by clicking 'add to cart' and 'check out' or email subscriptions@creamermedia.co.za for assistance.
item price: $119
Add to cart
View cart