creamer media
store
store home page

NEW REPORT AVAILABLE
Electricity 2017: A review of South Africa's electricity sector (PDF Report)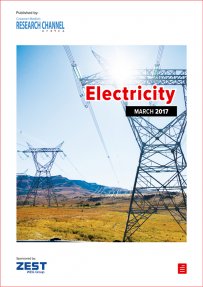 A lack of adequate electricity supply in recent years has had a negative impact on the South African economy. Power shortages have hindered economic growth and negatively affected business confidence. Generation capacity issues were at the heart of the electricity supply woes, but a strong operational turnaround by the country's main supplier, Eskom, has improved prospects.
State-owned power utility has progressed from implementing regular load-shedding as recently as mid-2015, to an average electricity surplus of about 5 600 MW at peak by the end of 2016.
Creamer Media's Electricity 2017 Report examines Eskom's turnaround, providing an overview of its generation developments, capacity expansion and financial status; the role of independent power producers; electricity planning, distribution and electrification, among other topics.
This report draws from material published over the past 12 months and is a summary of other sources of information published in Engineering News and Mining Weekly, as well as of information available in the public domain.
This report does not purport to provide an analysis of market trends.
Published on 15 March 2017.
item price: $350
Add to cart
View cart