creamer media
store
store home page

RESEARCH REPORT
Energy Roundup – February 2021 (PDF Report)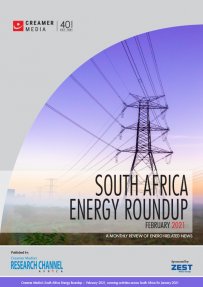 Creamer Media's Energy Roundup is a monthly report providing a synopsis of energy-related news from South Africa.
The February 2021 roundup covers activities in January 2021, and includes details of Electricity Intensive Users Group of Southern Africa's concerns about the operational and financial stability of Eskom; the South African government's plans to launch three procurement rounds for 6 800 MW of renewable energy over the next year; and Renergen's appointment of three companies for the engineering studies for Phase 2 of its Virginia gas project.
The report is a summary of information published in Engineering News and Mining Weekly, as well as of information available in the public domain, and does not purport to provide an analysis of market trends.
Published on: 05 February 2021
item price: $175
Add to cart
View cart