creamer media
store
store home page

RESEARCH REPORT
Energy Roundup – March 2019 (PDF Report)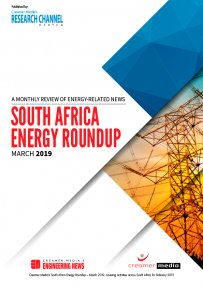 Creamer Media's Energy Roundup is a monthly report providing a synopsis of energy-related news from South Africa.
The March 2019 roundup covers activities in February 2019, and includes details of the Infrastructure Research Development Centre's opposition to government's decision to bring in external engineers to investigate the crisis at State-owned power utility Eskom's power stations; Eskom's unbundling; and newly released statistics of South Africa's expanding renewable-energy fleet.
The report is a summary of information published in Engineering News and Mining Weekly, as well as of information available in the public domain, and does not purport to provide an analysis of market trends.
Published on: 12 March 2019
item price: $175
Add to cart
View cart