creamer media
store
store home page

RESEARCH REPORT
Energy Roundup – March 2021 (PDF Report)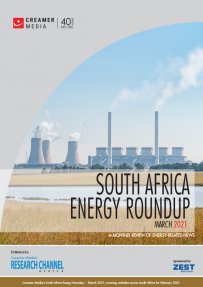 Creamer Media's Energy Roundup is a monthly report providing a synopsis of energy-related news from South Africa.
The March 2021 roundup covers activities in February 2021, and includes details of the Organisation Undoing Tax Abuse and the Helen Suzman Foundation's opposition to Mineral Resources and Energy Minister Gwede Mantashe's proposal to procure new nuclear power capacity; State-owned power utility Eskom's preparation for a pioneering request for proposals (RFP) to repower and repurpose the Komati power station, in Mpumalanga; and African infrastructure development fund manager Harith General Partners' plans to build the first gas-fired power plants in Gauteng.
The report is a summary of information published in Engineering News and Mining Weekly, as well as of information available in the public domain, and does not purport to provide an analysis of market trends.
Published on: 05 March 2021
item price: $175
Add to cart
View cart