creamer media
store
store home page

creamer media product
Energy Roundup – May 2016 (PDF Report)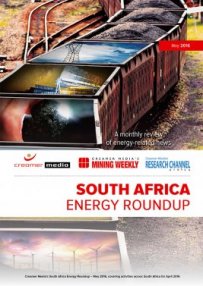 Creamer Media's Energy Roundup is a monthly report providing a synopsis of energy-related news from South Africa during the past month.
The May 2016 roundup covers activities across South Africa for April 2016 and includes details of the National Energy Regulator of South Africa's proposal to introduce a coal benchmark cost as part of its final decision on Eskom's multiyear price determination process; environmental group Greenpeace's launch of a new campaign called Renewable Energy Champions; and carbon and climate change advisory firm Promethium Carbon's launch of its Independent Power Producers (IPPs) Guideline to assist prospective IPPs in navigating the procedures required to licence new electricity generation facilities in Southern Africa.
The report is a summary of information published in Engineering News and Mining Weekly, as well as of information available in the public domain, and does not purport to provide an analysis of market trends.
Published on: 04 May 2016
item price: $175
Add to cart
View cart