creamer media
store
store home page

NEW REPORT AVAILABLE
Iron-Ore 2017: A review of the iron-ore sector (PDF Report)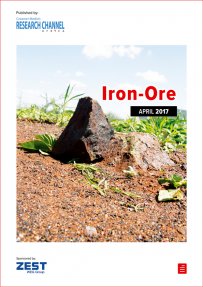 The iron-ore price astounded analysts in 2016 by recovering from a 2015 average of $55.30/t to end the year at more than $80/t. While the rally continued into 2017 – with the price exceeding $90/t in February, the highest since August 2014 – many market watchers are not convinced that the current level is sustainable and expect a pullback before the end of the year.
Creamer Media's Iron-Ore 2017 Report provides an overview of the global iron-ore market over the past year, with particular emphasis on supply and demand, trade and pricing. It provides not only information on the major global iron-ore producing companies and other significant producers, but also an overview of South Africa's iron-ore market and its major producers.
This report draws from material published over the past 12 months and is a summary of other sources of information published in Engineering News and Mining Weekly, as well as of information available in the public domain.
This report does not purport to provide an analysis of market trends.
Published on 11 April 2017.
item price: $350
Add to cart
View cart