creamer media
store
store home page

creamer media product
Projects in Progress 2016 - Second Edition (PDF Report)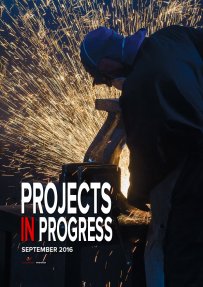 Notwithstanding the feeble global economic condition, there is little doubt that internal dynamics, especially in the political environment, have emerged as the main constraint to growth in South Africa. These domestic pressures are weighing on confidence and, in turn, on levels of fixed investment.
Those companies most exposed to the South African project economy are struggling to sustain order books, while margins have come under pressure. There has also been a concerted effort by a number of engineering contractors, in particular, to seek work elsewhere as South Africa's project pipeline fails to live up to its earlier promise.
These fragilities are apparent in this Project in Progress (PIP) supplement, where very few brand new projects are featured. Nevertheless, there are still a number of developments under way across a broad range of resources and industrial subsectors.
The automotive sector, for instance, remains relatively resilient, despite a significant fall in vehicle sales. This vibrancy is reflected in the report, with a focus on various brownfields investments being made by the established automotive majors, such as BMW South Africa, Ford Motor Company of Southern Africa and Volkswagen South Africa.
A new addition to the automotive investment portfolio is the joint venture project being pursued at the Coega Industrial Development Zone, in the Eastern Cape, by the Beijing Automotive Group Corporation (BAIC) and the Industrial Development Corporation (IDC). Construction of the first R4.25-billion phase is under way to develop a factory capable of assembling 50 000 light vehicles a year, comprising a combination of small cars, sports utility vehicles and pick-ups. However, BAIC and the IDC insist that their aspiration is to invest R11-billion in total to eventually upscale the plant's capacity to 100 000 vehicles a year by 2027.
This PIP edition also features updates on some of South Africa's largest infrastructure projects: from the giant Medupi and Kusile coal-fired power station developments to the country's commuter-rail modernisation initiatives and large water-transfer schemes. In the resources milieu, meanwhile, fresh insight is provided into investments in the gold, coal and platinum, as well as oil and gas subsectors.
There is little question that South Africa's fixed-investment environment is nowhere near as lively as it could be in light of the country's resources potential and it should be, given the pent-up demand for social and economic infrastructure. Moving beyond this current malaise requires a new sense of urgency and national purpose from the country's political and business leadership.

Published on: 30 September 2016
item price: $60
Add to cart
View cart