creamer media
store
store home page

REPORT AVAILABLE
Water 2016: A review of South Africa's water sector (PDF Report)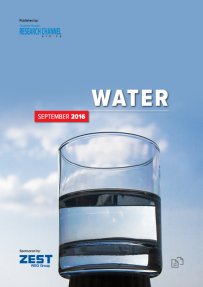 Ensuring water security is a top global priority, with the 2016 edition of the World Economic Forum's (WEF's) 'Global Risks Report' identifying water shortage as the third-greatest risk for the next ten years.
South Africa could in future face disruptions in water supply akin to the load-shedding that State-owned electricity utility Eskom has had to implement in recent times. The country's water supply challenges are the result of limited available resources, population growth of 1.3% a year and about 20 years of underinvestment in infrastructure. The situation is exacerbated by South Africa's suffering from the proxy impacts of the El Niño and La Niña through feedback loops in the tropics, which cause extremes in weather patterns that are associated with droughts and floods.
This edition of Creamer Media's Water Report considers the aforementioned issues in not only a South African context but also an African and global context in terms of supply and demand, water stress and insecurity, and access to water and sanitation, besides others.
This report draws from material published over the past 12 months and is a summary of other sources of information published in Engineering News and Mining Weekly, as well as of information available in the public domain. This report does not purport to provide an analysis of market trends.
Published on: 28 September 2016
item price: $350
Add to cart
View cart